Introducing our New Product Line… The J-Series!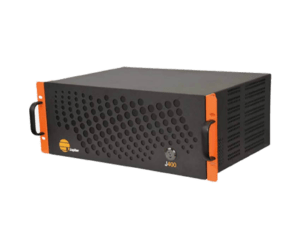 July 8, 2020 – When you think of Jupiter systems, you think of large-scale mission critical solutions. Maximum flexibility, superior resilience, and of course, extraordinary engineering. And sometimes, all of this comes at a cost that is not always conducive to smaller systems. This is a shame as these applications have just as much need for this level as engineering as the larger systems do. Not all projects require the bells and whistles of what a Windows 10 Operating Systems can offer.
This has been a concern for Jupiter for a long time. And we have been working towards solving this issue for quite a while which is why we are extremely excited to announce the J-Series appliances.
The J-Series is the newest product line from Jupiter Systems. Where the Catalyst systems are full-featured solutions that offer all manners of options and expansions, the new J-Series is an appliance that comes in just two configurations that can span a large swath of applications.
One of the most exciting attributes of the J-Series is that Jupiter has developed a new technology that significantly speeds up the throughput on the system called LightSpeed. LightSpeed features ultra-fast capture, transfer, display, scaling and cropping of inputs. LightSpeed technology enables source-to-display frame transfer in less than 16ms, which is the fastest in the industry. This technology simplifies the project hurdles and streamlines the onsite integration. I/O boards can be easily added, hot-swapped or serviced while the system is powered on. Adding more displays to a wall? Simply add another output board. Need more inputs? Simply add another input board. The J-Series supports all display technology including traditional LCD flat panels, rear projection cubes, projectors and Direct View LED. Jupiter will also release warp/blend input and output boards in the upcoming releases that is equivalent in functionality to any other product on the market, all at a fraction of the cost. LightSpeed technology is Jupiter's 30+ years of engineering experience simplified.
The J-Series will be available in two chassis sizes; the J400 (4RU, max of 8 input and 3 output boards) and the J600 (6RU, max of 14 input and 5 output boards). As stated before, this is a fixed appliance unlike other Jupiter products. When ordering this product, you will select which boards you want populated in the product such as DVI, HDMI or 4K HDMI at present, and of course full HDCP compatibility as well as EDID management (over time, there will also be more options available) and then it is delivered as a fixed appliance. All J-Series processors will support up to 4 independent video walls, each video wall can have a unique resolution and supports different cabling interfaces. Unlike other products from Jupiter, this product is designed to capture and display sources only. IP and network sources will be limited in the future to only h.264 streaming sources which is certainly an acceptable tradeoff when it comes to the increased performance that this now makes available to more applications. And best of all from the systems integration standpoint, this is a simple to use, easy to configure appliance that can be up and running in no time. An easy to use API allows 3rd party control systems or platforms to manage what is happening on the video wall.
The powerful web client allows remote management of the video wall and ease of use. Basic functionality ranges from window management to recalling layouts. Some of the advanced features included in the products are layout cycling, layout scheduling, configuring the layout without affecting the wall and powering down the video wall. Jupiter has also implemented the Layout Launcher which replicates a simple control system that can be loaded on a desktop, tablet or a mobile device.
The new J-Series is TAA compliant like all of our products and is assembled in our ISO 9001:2015 production floor. Jupiter Systems is always growing and evolving our products to fit the needs of the industry; naturally J-Series falls into this progression. With this product, even more customers and applications will have access to the same mission critical design engineering that has previously only been available to extremely large systems. The J-Series expands the reach of Jupiter Systems to more of your customers and will allow you to give them that reliability and engineering that may have been out of reach in the past.
Source:
https://www.av-iq.com/avcat/ctl1642/index.cfm?manufacturer=jupiter-systems&news=22654